ABOUT EVENTS
ESA events provide the opportunity to connect and network with like-minded business professionals to learn and discuss industry topics and best practices, as well as build new business relationships and generate business opportunities.
Our Events Calendar has a drop down menu with options to locate Chapter Events, Committee Meetings, Webinars and ESA Events.
ESA Leadership Summit
SEPT 28 – OCT 1, 2020 | Omni Frisco Hotel at The Star, Frisco, TX
The Summit program will provide intensive learning and networking opportunities for security integration professionals interested in growth strategies for their respective companies.
This executive-level conference gathers the best minds in the electronic security and life safety industry to share best practices and techniques, lend advice, push each other to be better — and move the industry forward.
Schedule meetings in advance through the Summit's unique meeting-request technology. Break the ice with fun, intentional networking opportunities. Soak in the inspiration from experts outside of the industry to encourage a new perspective.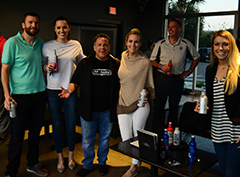 March 2020
The AIREF Golf Classic is an annual golf tournament that allows industry professionals to network and golf without guilt while supporting AIREF initiatives in the process. The tournament, which usually takes place in Las Vegas in April, was founded in 2003 to help raise money for industry research. The fundraising event has been so successful that it is now the main source of funding for the foundation.
JUNE 9-12, NASHVILLE, TN
Open exclusively to the electronic security and life safety industry, ESX is designed to allow passionate professionals the ability to learn more, share more, and interact more. With an attendee base of decision makers from within the industry, collaboration is sparked within interactive sessions focusing on co-creation, innovation and brainstorming new business approaches — allowing professionals to return the office with actionable advice.
ESX's expo isn't a badge scan and go experience. Here, you won't just hear rattled off product features. Come prepared to tap exhibitors for advice on marketing, sales, installation training, merchandising and more.
All profits made from this event are funneled back into the industry through the not-for-profit organizations that own the event: the Electronic Security Association (ESA) and The Monitoring Association (TMA).
LOCAL ADVOCACY MOVEMENT FOR THE INDUSTRY.
ESA is organizing a nationwide advocacy movement, connecting you with your federal elected officials. We'll arm you with information on important legislative issues and facilitate meetings with your member of Congress at their district office. Take an active stance for the industry we share.
To register for the 2019 District Week click HERE. Registration ends August 9th.
Subscribe To Our Mailing List
Upcoming Events
12/11/2019 02:00 PM - 03:00 PM